M/Sgt. Prof. Daniel Mateo Fajardo has arranged and composed a number of remarkably enchanting music. However, there is one that stands out from the rest. Furthermore, this music has a captivating story to tell.
Veteranos de la Revolución (Veterans of the Revolution) is a masterpiece composed by M/Sgt. Prof. Daniel Mateo Fajardo, dedicated to General Emilio Aguinaldo.
Inspiration Behind The Masterpiece
Daniel Mateo Fajardo himself is a revoluciónario (revolutionary) who took part in the revolution against the Spaniards in 1896. You can read more on the detailed presentation of this historical account in the post written by his great-granddaughter, Liz Fajardo, who found his manuscript during her research on the maestro and the history of Banda de Las Piñas (Las Piñas Band).
In the original manuscript of the musical score of Veteranos de la Revolución, you can find the notes, "Dedicado al Gral. Emilio Aguinaldo – Jefe Supremo de la Revolución de Filipinas". This translates in English to, "Dedicated to Gen. Emilio Aguinaldo – Supreme Chief of the Philippine Revolution".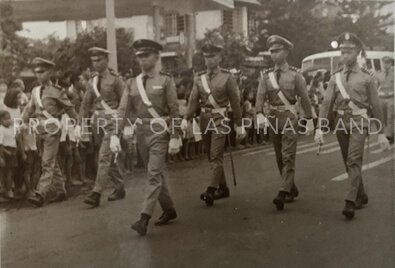 Veteranos de la Revolución is a marcha patriotica or patriotic march similar to the works of John Philip Sousa, dubbed as "The March King". Moreover, he was known for revolutionizing and standardizing American march music in the 19th and early 20th centuries.
It is rarely heard and is undeniably unique. Moreover, the style of the music is a trend during the late years of the Spanish period up to the end of the American colonial regime. Thus, the influence of western romanticism of the late 19th century is evident in parts of the composition. In addition, the music also takes inspiration from the national anthem of the Philippines, "Lupang Hinirang" which was composed by Julián Felipe in 1898.
Origins of Marcha Patriotica (Patriotic March)
Patriotic march music or march music, in general, originated from the military. Most often, soldiers sang songs as they marched towards the frontlines. That is why marching melodies were essential to troops because they had to turn to each other for a source of entertainment. Besides, music brings people together to find joy in previously isolated and bleak situations.
Many march music recycles melodies from original popular or traditional music, rewritten by soldiers. American march music, for example, originated from European composers. They borrowed from the military music of the Ottoman Empire that existed since the 16th century.
Patriotic music is a part of the culture and history of the Philippines most especially because we have experienced fighting our way to freedom through three eras of conquistadors. Thus, it enkindles feelings of glory and honor for the country's forefathers, heroes, and calls for national unity.
Daniel Mateo Fajardo is arguably one of the first generation Filipino composers. Indeed, his masterpiece "Veteranos de la Revolución" is a testament to how Filipino composers struggled with the invasion of Western musical culture in the late 19th century, taking over them, but at the same time creatively infusing their new works with elements of tradition and local folk vibes, Filipino musical events and personalities.
The Filipino composers of his time not only mastered Spanish and American musical idioms and techniques (a one-way process) but also negotiated a space of artistic freedom (a sign of modernity) in which they projected a unique identity.
Evolution of Philippine Music
The cultural exchange in music shows contemporary social experiences. As times changed, so did our culture and choice of music. And so, we shaped ourselves into a magnificent work of art — our identity, a beautiful symphony of cultures. We may have adapted a myriad of foreign ways, yet we still incorporate details that resonate with our Filipino heritage.
Daniel Mateo Fajardo and his Legacy